Michael said he was off to 'conquer the world', and I don't think there are any doubts about the fact that he did just that. Michael was an uncomplicated man with exceptional communication skills. He was just as much at home in the spotlight at Madison Square Garden as he was in his own back garden. He would want us all to celebrate the fact that he achieved his dreams and made some wonderful friends along the way.
On behalf of my family I want to thank you for coming today. This is not intended to be a sombre occasion. This is a celebration of my brothers' extraordinary life."
The Ashes - Patricia Glassop
After the horror of the fiasco surrounding the release of Michaels' ashes, I called Tina and asked her to make enquiries re having my 'share' of Michaels' ashes interred in the beautiful Forest Lawn Memorial Park in the Hollywood Hills. Ross and I flew to Los Angeles and called Michaels' friends who were so happy they could attend as many had been unable to fly to Australia to pay their respects.
In November 1999 we all gathered together for the service attended by Tina, her son Brent and daughter Erin. Also present were Joshua Wapner, Michaels' friend Nick Conroy (who had shared a house with Michael and Michele and Jenny Morris in Sydney) Karen Ansel, Lian Lunsen, Richard Ortiz, Sherine Abeyratine, Ninon Aprea, Seven Pearson, Jonnie, Louise and 'Blair'.
We stood in the gentle falling rain at the site we had chosen by a gorgeous giant elm tree, across from the tiny chapel, surrounded by the lush, green, Hollywood Hills.
It was so touching. Ross read the twenty third psalm and Tina spoke for me, as I did not want to spoil the service by breaking down.
Nick told a few funny stories about the times they had while sharing the house together. Lian read a beautiful poem and Sherine sang Moon River. Johnny Mercer's lyrics seemed especially fitting. It was a bittersweet and truly memorable event.
I placed a bouquet of Iris and a Tiger Lily, Tina, Brent and Erin some tulips and the other various flowers, mostly roses.
We all went back to Tina's home to celebrate Michael's life.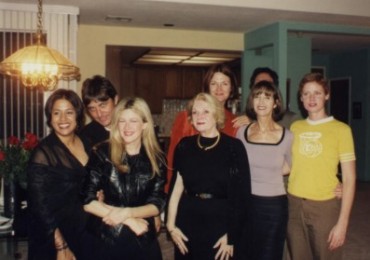 At the U.S.A. memorial and celebration of life for Michael
Sherine Abeyratne, Nick Conroy, Lian Lunson, Patricia, Karen Ansel, Tina and Louise.
I woke very early the following morning and asked Ross to take me to see Michael's resting place. We drove around to Forest Lawn and were startled to find a mess of flowers strewn around the area where we had held the service the previous day.
The headstone was missing and the only trace was the remains of the flowers, which were mostly stems. My heart skipped a beat and I wondered if we were in the wrong area. How could this happen? Who would do something like this? This was another nightmare.
When we made our way to the Park office I was furious and becoming hysterical. I could barely get the words out between tears as I demanded to see the person in charge. I was shown to the manager's office who did not seem in the least bit agitated as I alerted him to the terrible news that someone had desecrated my son's resting place and stolen his headstone.
He asked me to give him a moment, disappeared and came back with a very large photo album. He very slowly went through page after page, and then stopped. He looked me straight in the eye tapping his finger at something on the page. He said, "There's your culprit." I looked down at the page to see a picture of a deer chewing on a bunch of flowers. He said it had been a busy weekend and the deer get the smell of fresh flowers, and they wait until it is quiet and then come down from the hills and eat them. The headstone had been removed in order for the park authorities to refinish the edges and place it in permanently.
When we returned to the site we, were greeted by Michael's friends, Nick, Lian and Sherine. They were sitting on the lawn sharing a picnic and reminiscing. I knew then that I had made the right choice to have Michael interred here.
Each time we place flowers at Michael's headstone they disappear overnight. We have tried planting a prickly rose bush to no avail. We have since resigned ourselves to this and place whatever beautiful flower knowing that the local deer will feast that evening. Even the deer like to party with Michael.