Aim : Michael Hutchence's name on the Hollywood Walk of Fame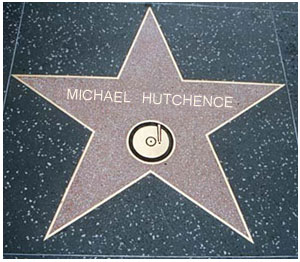 This is how we imagine it will look. (Not actual photo)

Artists from stage, motion picture, radio, television; directors, along with singers and songwriters; are represented by large bronze stars set in pink and charcoal terrazzo squares.
The process to select new recipients of a 'star' takes several months and they may not get a star until the following year, but in the meantime the body nominating the 'star' must submit USD$30,000 to the Hollywood Walk of Fame Committee.
We have set up a fundraiser account expressly for anyone interested in contributing to a star for Michael. We are asking that anybody who would like to become a part of rock and roll history, and make a star for Michael a reality - please click on the contribute link and lets make this happen.
Together we all can make this happen and honor Michael with a lasting tribute where millions of visitors from around the world can visit and remember.

Click here for the official website of Famous Hollywood Walk of Fame