BIOGRAPHY
January 22 1960 – November 22 1997



Michael Kelland John Hutchence was born on January 22, 1960 at Mater Misericordiae Hospital in North Sydney, New South Wales, Australia. His mother Patricia Kennedy, was a former successful Melbourne model turned makeup artist and mother of eleven-year-old Tina when she married Sydney businessman Kelland Hutchence on January 31, 1959.
Michael was a very happy child with a big smile for everyone. He just seemed so excited to be alive. Soon after he was born the family moved to Brisbane where his brother Rhett was born. The family returned to Sydney when Michael was three years-old and just days before Michael's 5th birthday in January, 1965, the family departed for Hong Kong where Kell had accepted a position with a company which imported beef from Australia and wines and spirits from France.
Michael attended pre-school, Kindergarten and elementary, eventually going on to King George the 5th High in Hong Kong.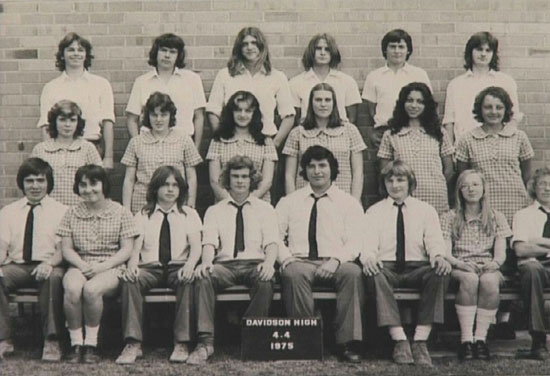 Michael Hutchence (top left) at Davidson High in 1975

During those formative years in Hong Kong, Michael proved to be an excellent athlete at certain sports, namely those, which did not involve a 'team' or running. He was a superior swimmer and also won several trophies for diving.
The music played in the Hutchence household ranged from his parents' tastes; Ella Fitzgerald and Frank Sinatra to his teenage sisters' the Beatles and the Rolling Stones. He studied classical guitar for a short time and the violin which, the way he played it, was excruciating to the ears. At other times he would sit around with his friends singing folk songs when he wasn't involved in Boy Scouts, fencing, judo, or kick boxing. Although he was interested in music, he dreamed of becoming an airline pilot.
One of his favourite past-times was visiting his mother and sister on movie sets at Shaw Brothers Studio. He started this at a very young age and instinctively knew to sit very quietly while the actors were doing a 'take'. He watched everyone intently, interested in every aspect of movie making.
At the age of eleven, he made a recording of Christmas carols for a toy manufacturer. The recording was made to a small disc which was encased by a Santa Clause and sold quite well that Holiday Season.
When Michael was 12 the family returned to Sydney and settled into a home in Belrose, New South Wales. Michael used to call it 'Sausage Hill' because of the weekend barbeques in the neighbourhood. This was a huge culture shock for Michael. His first day at Davidson High was eventful but not very pleasant – as the students did not take kindly to his slightly British accent. It was a blessing in disguise however when he met Andrew Farriss who was to become his lifelong friend and business partner.

Over a 25 year friendship and a writing partnership that spanned 20 years, together they wrote and performed with the other members of INXS some powerful music that is still heard in motion pictures, on commercials, in clubs and on the radio today.
At the age of 15 Michael and his mother left for California. He has said that with the breakup of his parents' marriage he felt that she needed someone and it pained him to think of her alone. He and his mother joined his sister Tina, and her son Brent in a house in Studio City. While his mother continued her work in motion pictures, Michael enrolled into North Hollywood High where he found the student population and instructor/student relationship liberating. He was quite
introspective and began to write poetry with a passion. He continued to visit his mother on sets and soaked in the down to earth basics of movie making which possibly helped him later on when it came time to make videos with INXS.
Michael and his mother returned to Australia where he continued his friendship with Andrew who was seriously edging toward a career in the music industry. With Andrews' band 'Doctor Dolphin' together, there was no place apart from vocals for Michael who did not play an instrument. Gary Beers was playing bass guitar in this first band. Slowly Michael began to expose his poetry to Andrew who was already an accomplished musician.
All three Farriss brothers played an instrument. Eldest brother Tim, a guitar player was already performing in a band with Kirk Pengilly. Youngest brother Jon was learning the drums. They eventually formed the line-up that would endure for more than 20 years. After some rehearsals in the Farriss or Hutchence garage, they debuted their band the 'Farriss Brothers' on August 16, 1977 – Tim's 20th birthday and the day Elvis Presley passed away.

The day after Michael completed high school, he and Kirk Pengilly drove across the Nullabour Plains to join the Farriss family and Gary Beers in Perth to give their dream of becoming a band a chance.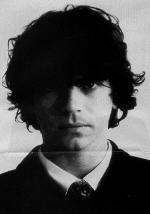 After a tough ride in and around Perth, playing covers the band made their way back to Sydney.
By this time Michael was getting his stage legs. He had a presence that only a select few performers exhibit; a certain something that was a combination of his natural charisma and instinct. The band was spotted by Garry Morris the manager of Midnight Oil who, was too busy to manage them himself but called another manager who was searching for a band. Not only did they get a manager, they changed their name at the same time. Their stage persona was so excessive it seemed appropriate that they should call themselves 'INXS'.
Chris Murphy's managerial savvy combined with the musical talent of INXS members, with Michael as front man took them to international stardom.
Chris, no stranger himself to hard work, had Michael working on his craft constantly. Gig after gig on the road 300 days out of the first year was very humbling. Michael never forgot those days of sharing one order of fish and chips between two people and one hotel room for 6.
That same year 1980, they released their first two singles 'We Are The Vegetables' and'Simple Simon' and began work on their first album-music by Andrew and lyrics by Michael.
Every night after performing in and around Sydney pubs, they would drive to the studio and record. It was a gruelling but satisfying time for the band. Michael and Andrew barely felt the pressure of writing and performing and recording and continued on the same routine throughout most of their careers. With every tour they were writing songs for the next album.
Michael's performances began to get noticed by the media and his stage persona was likened to Mick Jagger and Jim Morrison.
Their self-titled debut album included their first hit, 'Just Keep Walking'. They continued to work hard and just six months later they released a cover of a sixties hit, 'The Loved One' which truly proved to be the perfect set of tempo and lyrics to showcase Michael's sensual phrasing and erotic stage persona.
The music journalists lavished praise on the band. One journalist, Jenny Hunter Brown described him thus: "He stares quite fearlessly, slightly surlily, out at the milling pub crowd. And for a moment Michael Hutchence echoes the late Jim Morrison. " She continues; "He's twenty, fit a fine dancer. He swings side to side with the mike stand as access in a mutant, Austral skank. A great mat of damp curls flopping over one angry eye, he shoots out each rounded word like a rocket off a pad."
In no time at all INXS were on their way to the international scene in a short leap. In 1984 they embarked on their first world tour. This would mark the beginning of years of constant touring, writing and recording for Michael.
In 1985 INXS played to 50,000 fans over three sold out shows in their homeland and dominated the music award shows –something they continued to do for the next 5 years. In the same year Michael and the band performed for Prince Charles and Lady Diana in a charity concert called'Rocking with the Royals'.
In March of 1986 Michael made his movie debut in Richard Lowenstein's Dogs In Space. Michael played Sam Sejavka, real life punk rock singer from Melbourne in the late seventies who had struggled unsuccessfully with heroin addiction. Richard had written the movie with Michael in mind, positive that he could carry it off. Michael did not let him down receiving admirable reviews for his performance and entering the top ten with a single titled Rooms For The Memory .
By the mid eighties Michael was no longer residing in Australia, he had moved back to Hong Kong. This began a habit of Andrew and Michael writing on separate continents. Michael had a habit of writing on anything available as he often misplaced his notebook and rarely was it around when the creative thought reared. It was not unusual for Andrew to send Michael 25 pieces of music.
By late 1986 INXS was breaking out in North America with 'What You Need' on heavy MTV rotation. Michael was becoming a 'video' star as he was a natural in front of a camera.
In 1987 INXS recorded 'Kick' which was to become their most successful album. In September 1988 they swept the MTV Music Awards with 'Kick'.

In 1989 Michael teamed with Melbourne musician Ollie Olsen to record 'Max Q'. For the first time
Michael explored life in and out of the studio without INXS. It was a critically acclaimed album and a personal success for Michael.

Michael then accepted a call from Roger Corman to co-star in his movie 'Frankenstein Unbound' starring John Hurt and Brigit Fonda. It was shot in Lake Como, Italy . It was not a commercial success and the critics hated it, but as Michael said, "You really don't know what the end result is going to be with a movie. You just do your best and trust your director."
By 1989 Michael's private life was taking a front seat with romantic partners such as Kylie Minogue and Helena Christensen. Although he was taking time off from INXS, he continued to write and listen to new music and absorb 'life'. He didn't understand the pre-occupation the press had with his personal life.
During this time INXS played the big stage at Wembley, arriving by helicopter to a screaming, throbbing audience of approximately 75,000 and a recorded live performance "Live Baby Live".

Although future album sales would never hit the heights of Kick, the bands' live performances were still at a premium. They were always known as an exciting live band and INXS always delivered.
Michael's base was in the South of France but he also spent a lot of time in the U.S. and London. He was known for taking exotic vacations and was often photographed with celebrities though never sought the limelight. He was proud of the fact that he could walk around unrecognized.

That all changed when he became involved with British television personality Paula Yates with whom he had a daughter, Heavenly Hiraani Tiger Lily Hutchence on the 22th July, 1996. The press would not leave him alone and he was placed in the unenviable position of defending himself when the British press dubbed him the man Paula had left Bob Geldof for. He was swept up in the Yates/Geldof child custody wars –a position he should never have been placed in. After 18 years of a love affair with the media, he was no match for the onslaught of mud slinging and nastiness from the tabloids.
In 1997 he embarked on his last tour with INXS for the very personal album, 'Elegantly Wasted'; taking a large amount of Prozac to keep on an even keel; he was not being monitored and had only seen a therapist twice. His last shows on the east coast of the U.S. were not his best by far. He had recently signed with a U.S. agent for his acting and his manager had been negotiating with Quentin Tarrantino about a movie beginning in early 1998. But personal problems plagued him. On November 22, 1997, just 4 days prior to beginning the Australian leg of the tour, seemingly despondent over his personal life, Michael took his life in a hotel room in Sydney.

Hutchence's long-in-the-works solo album, Michael Hutchence, was finally released in 1999.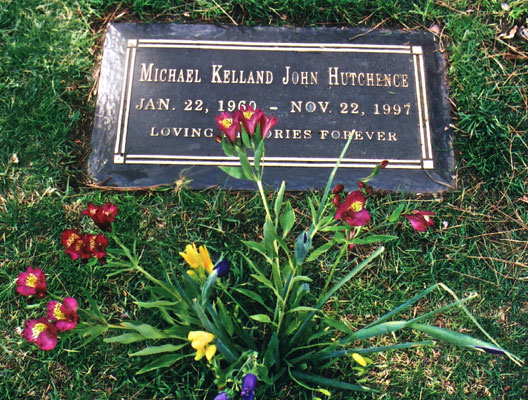 Michael was a very special, sensitive, soul who is missed and loved by many.