PART 7 - Kelland Frank Hutchence - by Tina Hutchence
KELLAND FRANK HUTCHENCE
July 21, 1924 – December 12, 2002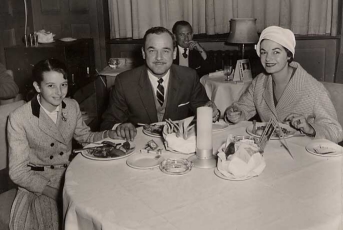 1959: Tina, Kell, and Patricia on the day Kell surprised Tina with a
heart-shaped locket bearing the name 'Christina Elaine Hutchence'.

For Kell
by Tina Hutchence
Kell was a man raised in a time when it was cool to be a gentleman, he was of the old school, the old boys club. He learned all of the little things that women love and other men appreciate.
His father was a sea captain and spent much of the time away leaving Kell with his mother and older sister. It was an era when men saw women as homemakers, mothers, - caretakers in general.
It did not make him applaud women as smart thinking, independent and capable; he felt that women should hold a different place in society, and needed to be taken care of. Basically if he met a powerful woman in his business dealings - he generally looked for the man behind her.
It was not a character flaw, it was just the times. He was brought up in the thirties and forties; who could blame him for expecting to live out a "Father Knows Best" sitcom life?
As I plunged into my mid-teens I looked to Kell as a model for my dates. Can you imagine the disappointment and frustration as I found that the boys my age had not been raised as Kell had. It was the mid sixties, and it was not considered hip to actually "court" a girl the way in which my childlike eyes had witnessed Kell woo my mother, Patricia.
I made my teen years perilous for my parents. Kell would return from one of his many overseas business trips to face a run down of my misdeeds. Things like - I stayed out passed my midnight curfew, played my records too loud, refused to clean my messy room or acted sullen to a visitor.
Kell knew everybody in Hong Kong and the community at the time knew our family and Kell had spies everywhere. He once found out that I was seen at a restaurant, with a martini, and a cigarette. I was 18 at the time, and wasn't really a smoker, I used to hold a cigarette and pretend to "puff" and gesture like Bette Davis. My punishment was to join my parents for cocktail hour (a regular ritual at our home when Dad came home). Kell asked our 'house boy' to make me a weak scotch and soda and offered me a cigarette. He insisted that I suck the smoke in and of course I sputtered and coughed until he told me I was free to go to my room. It was effective because I never became a smoker.
The past five years have been a hazardous maze of tremendous grief, obscene betrayals by attorneys, managers and financial gurus, and most of all, false, deceptive, erroneous headlines. All of which have been unhealthy for us all - family, friends and fans alike.
Kell and I said our peace some time ago. In the most recent months we spoke of happy, loving memories and of hope for the future. I had sent him photographs of his first great-grandchild, Erin and Joshua's Benjamin. When cancer took the life of my son Brent's father in July, Kell also lost a friend as they had kept up a correspondence over many years and Kell reached out to Brent.
His last words to me were, "You know Darling, we have had our skirmishes but in the end the love has always been there.'"
He will be loved and missed by Brent, Erin, Joshua, Benjamin and most of all me.
Tina Hutchence 12/15/2002